Dining
Dine in the secluded luxury of a private Club with the gourmet culinary offerings of our multi-talented Executive Chef and his cook staff. Enjoy a quiet meal, or join us for a wide variety of social events from wine dinners, special music nights and BBQs to grand holiday banquets, with several casual and formal dining options to suit your mood.
Inline Image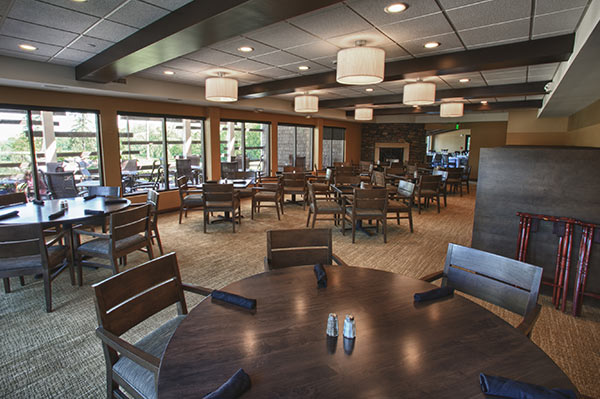 Catering
Our Executive Chef and his cook staff are always ready to create magic for your next event, whether it's a banquet at our Clubhouse, or a take-out order for your enjoyment at home. Our extensive catering menu is just a starting point. We pride ourselves on kitchen creativity, and we're glad to consult on the creation of any special gourmet, thematic or ethnic menu of your desire.
Here's a brief sampling of our favorites:
Honey Smoked Salmon with Traditional Accoutrements
Double Marinated Beef Tenderloin Dressed with Cognac Demi-Glace
Fresh Thai Spring Rolls with House Asian Dipping Sauce
Flash-Broiled Crab-Stuffed Prawns
Hot Homemade Apple Crisp with Cinnamon Whipped Cream
Bar/Grill
Members love the flavorful foods on our seasonal menu, including such perennial favorites as the Mandarin Chicken Salad, Beef Short Rib Grilled Cheese Sandwich, Walleye Sandwich and daily specials. Compliment your meal with favorites from our full bar, including a wide selection of wines from well-respected vintners such as B.R. Cohn, Beringer, Silver Oak, Cuvaison, Frei Brothers and Veuve Cliquot.